Whether you're a seasoned Londoner or a first-time visitor, iconic landmarks like Big Ben, the London Eye, Buckingham Palace, and Tower Bridge are likely etched in your mind. While these attractions hold their undeniable allure, the city harbors a wealth of hidden treasures that often escape the postcard-perfect limelight.
Amongst the labyrinthine waterways and tucked-away corners, you'll discover secret canal-side promenades, intimate underground theaters, and dining establishments in the most unexpected nooks. Here, we unveil some of London's finest hidden gems, promising experiences that should not be overlooked on your journey through this multifaceted metropolis.
Neal's Yard, Covent Garden: A Hidden Oasis of Vibrance and Wellness
How to Get There: Neal's Yard is located in Covent Garden, London WC2H 9DP. The nearest Tube Station is Covent Garden (Piccadilly Line).
Hidden Location:

Neal's Yard is tucked away from the main streets of Covent Garden and can be accessed through two narrow alleyways: one leading from Short's Gardens and the other from an alleyway on Monmouth Street. Its concealed location adds to its allure as a hidden gem.

Design and Features:

Neal's Yard is characterized by its vibrant, colorful facades and charming cobblestone courtyard. The buildings are adorned with an array of plants, flowers, and artwork, creating a picturesque and inviting atmosphere.

Independent Businesses:

Inside the courtyard, visitors will find a selection of independent businesses, including restaurants, cafes, bars, and shops. Many of these establishments focus on providing organic, sustainable, and ethical products.

Neal's Yard Remedies:

One of the most notable businesses in Neal's Yard is Neal's Yard Remedies, an organic health and beauty store. It offers a wide range of natural and organic products, including skincare, supplements, and remedies.

Cafes and Eateries:

The courtyard also hosts several cafes and eateries that offer a variety of cuisine, from vegetarian and vegan options to international flavors. It's a great place to enjoy a meal or a relaxing cup of coffee.

Events and Activities:

While Neal's Yard itself doesn't typically host events, it is in close proximity to the bustling area of Covent Garden, which often features street performances, markets, and cultural events.

Visiting Tips:

Photography: Neal's Yard is a popular spot for photography due to its vibrant colors and unique aesthetic. Be sure to capture the beauty of the courtyard.
Exploration: Take your time to explore the various shops and eateries. Each establishment offers its own unique offerings and atmosphere.

Cultural Significance:

Neal's Yard is a symbol of London's commitment to sustainability, ethical business practices, and holistic well-being. It has become a destination for those seeking natural and organic products.

Accessibility: The courtyard is accessible, but please note that the cobblestone surface may pose some challenges for those with mobility difficulties.
Neal's Yard is a hidden oasis in the heart of Covent Garden, offering a peaceful retreat from the bustling streets of central London. Its vibrant colors, organic offerings, and commitment to sustainability make it a unique and cherished destination for visitors and locals alike.
Leake Street Tunnel, Waterloo: A Canvas of Urban Expression
How to Get There: Leake Street Tunnel is located beneath the railway arches in Waterloo, London SE1 7NN. The nearest Tube Station is Waterloo (Jubilee, Bakerloo, Northern, and Waterloo & City lines).
Historical Significance:

Leake Street Tunnel gained prominence when it was transformed into an open-air gallery during Banksy's "Cans Festival" in 2008. It is now known as one of London's legal graffiti zones.

Design and Features:

The tunnel is approximately 300 meters long, and its walls are covered in vibrant and constantly evolving street art. It serves as a canvas for graffiti artists from around the world.

Legal Graffiti Zone:

One of the distinctive features of Leake Street Tunnel is its status as a designated legal graffiti zone. This means that graffiti and street art are permitted and even encouraged in this area.

Visiting Tips:

Exploration: Take your time to explore the entire length of the tunnel, as different sections showcase a variety of artistic styles and themes.
Photography: The tunnel's artwork provides excellent opportunities for photography. Be sure to credit the artists if you share the photos online.
Respect the Art: While it's encouraged to appreciate the art, remember not to touch or deface the artwork in any way.

Events and Activities:

Leake Street Tunnel occasionally hosts events, exhibitions, and live painting sessions. These events provide a chance to see artists at work and engage with the vibrant street art community.

Cultural Significance:

Leake Street Tunnel is a testament to the dynamic and ever-evolving street art scene in London. It celebrates urban expression and provides a platform for artists to showcase their creativity.

Accessibility: The tunnel is wheelchair accessible, but please note that the ground may be uneven in some areas.
Nearby Attractions: While in the Waterloo area, consider visiting other nearby attractions such as the Southbank Centre, the London Eye, and the Royal Festival Hall.
Leake Street Tunnel is more than just a passageway; it's a living canvas that reflects the creativity and diversity of urban art in London. It invites visitors to immerse themselves in the world of street art and experience the vibrant energy that permeates this unique underground space.
Kyoto Garden, Holland Park: A Tranquil Oasis in the Heart of London
How to Get There: The Kyoto Garden is located within Holland Park, one of London's most beautiful parks. The park's address is Holland Park, Kensington, London W8 6LU. The nearest Tube Station is Holland Park (Central Line).
Design and Features:

The Kyoto Garden is a meticulously designed Japanese garden, gifted to London by the city of Kyoto in Japan.
The garden features a koi-filled pond, a graceful waterfall, and stone lanterns, all surrounded by lush vegetation. The design adheres to traditional Japanese principles of balance, harmony, and respect for nature.

Flora and Fauna:

The garden boasts a diverse selection of plants and trees, many of which are native to Japan. This includes cherry blossoms, maple trees, and bamboo groves.
Koi fish gracefully swim in the pond, and it's not uncommon to spot resident peacocks adding a touch of exotic flair.

Cultural Significance:

The Kyoto Garden symbolizes the enduring friendship between London and Kyoto. Its design and elements pay homage to traditional Japanese gardens, providing visitors with a profound cultural experience.

Contemplative Retreat:

The garden invites visitors to engage in contemplation and reflection. It's a popular spot for meditation, yoga, or simply finding a quiet moment amidst the verdant beauty.

Events and Activities:

While the garden itself doesn't host specific events, it serves as a serene backdrop for private events, weddings, and small gatherings.
Occasionally, there may be cultural events or festivals held in the park, so it's worth checking the park's events calendar.

Visiting Tips:

Timing: Visit during the spring for the blooming cherry blossoms or during autumn for the vibrant fall foliage. Early mornings or late afternoons offer a quieter experience.
Photography: The garden's picturesque setting makes it a great spot for photography. Be respectful of other visitors while taking pictures.
Silent Contemplation: Take a moment to appreciate the tranquility and serenity of the garden. It's a place to unwind and find inner peace.

Accessibility: The garden is accessible for visitors with mobility challenges, though some areas may have steps or uneven surfaces.
The Kyoto Garden in Holland Park is a serene haven, offering a glimpse into the artistry and harmony of Japanese garden design. It's a place where nature and culture coalesce, providing a respite from the urban pace of London and inviting visitors to experience the timeless beauty of this hidden oasis.
Daunt Books: A Literary Haven in Marylebone
How to Get There: Daunt Books is located at 83 Marylebone High Street, London W1U 4QW. The nearest Tube Stations are Bond Street (Central and Jubilee lines) and Baker Street (Bakerloo, Circle, Hammersmith & City, Jubilee, and Metropolitan lines).
Events/Activities:

Book Launches: Daunt Books occasionally hosts book launch events, providing a platform for authors to present their works to an audience.
Author Talks: The bookstore occasionally organizes talks and discussions with authors, giving readers an opportunity to engage with the creative minds behind the books.

Visiting Tips:

Explore by Region: One of the unique features of Daunt Books is that it organizes its books by region. Each section is dedicated to a specific part of the world, making it a great place to discover literature related to specific countries or travel destinations.
Enjoy the Atmosphere: Take your time browsing the shelves and enjoy the calming and inviting ambiance. The Edwardian oak galleries and skylights add to the charm of the bookstore.

Specialty: Daunt Books is renowned for its curated selection of travel literature. Whether you're planning a trip or simply looking to explore the world through books, this bookstore offers an extensive collection of travel guides, memoirs, and fiction set in various locations around the globe.
History: The bookstore was established in 1990 by James Daunt. It was inspired by the Edwardian oak galleries and skylights of the original Edwardian bookshop on Marylebone High Street.
Additional Locations: In addition to the Marylebone location, Daunt Books has expanded and now has several other branches, including shops in Chelsea, Hampstead, and Holland Park.
Online Store: If you're unable to visit in person, Daunt Books offers an online store where you can browse and purchase books from their curated selection.
Personalized Recommendations: The knowledgeable staff at Daunt Books are passionate about literature and travel. They are happy to offer personalized recommendations based on your interests or travel plans.
Daunt Books provides a unique and immersive experience for book lovers and travelers alike. With its distinctive focus on travel literature and carefully curated selection, it's a destination that invites exploration and discovery, whether you're planning a journey or simply seeking a captivating read.
Little Venice: A Tranquil Waterfront Haven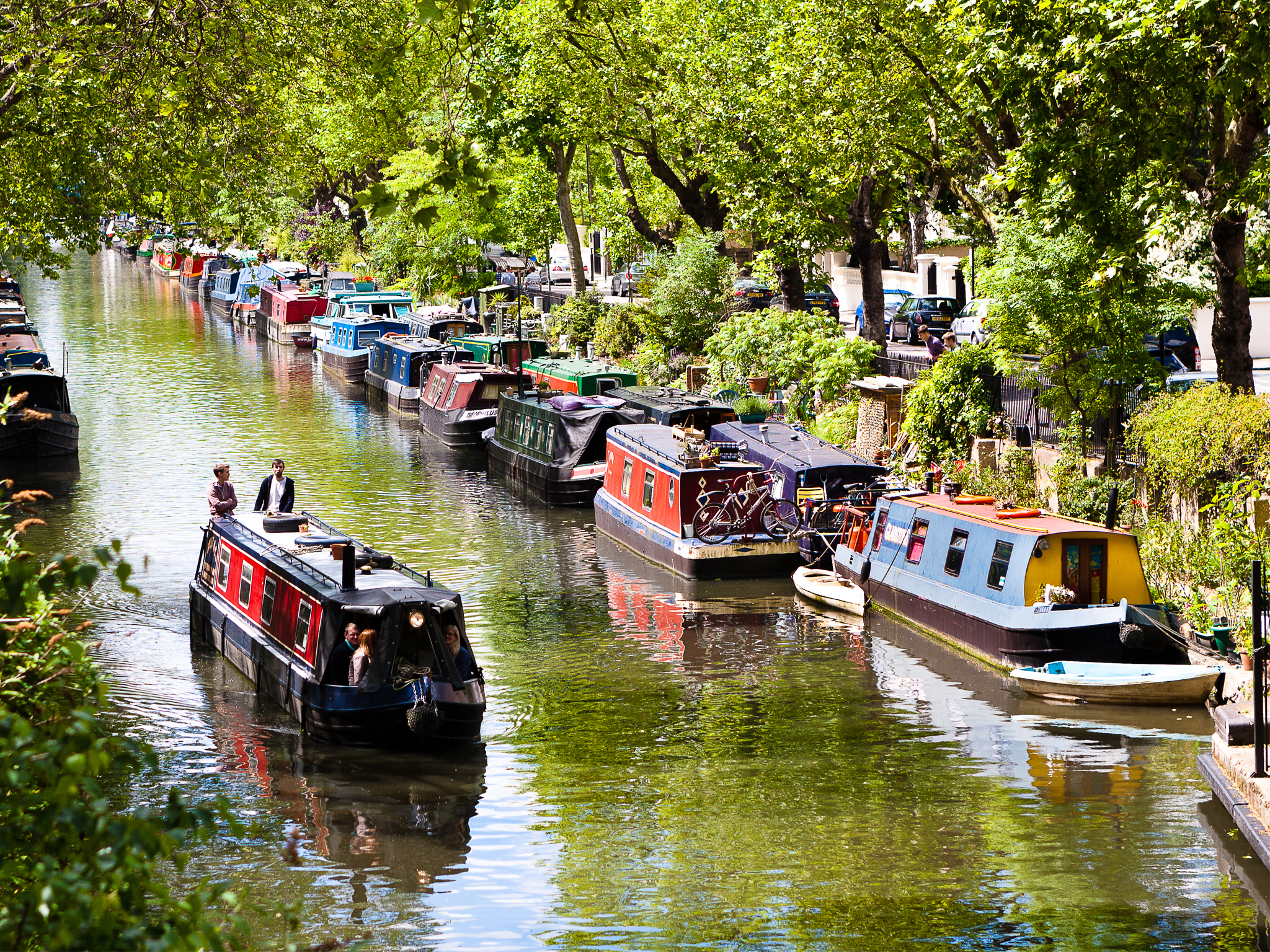 How to Get There: Little Venice is located in the Maida Vale area of London, W2. The nearest Tube Stations are Warwick Avenue (Bakerloo Line) and Paddington (Bakerloo, Circle, District, and Hammersmith & City Lines).
Canal Network:

Little Venice is a picturesque area where three canals converge: the Grand Union Canal, the Regent's Canal, and the Paddington Arm of the Grand Union Canal. This convergence creates a peaceful and scenic waterfront environment.

Canal Boat Rides:

Visitors can enjoy canal boat rides that depart from Little Venice, offering a unique perspective of the city. These boat trips may take you along the Regent's Canal, passing through scenic areas like Regent's Park and Camden.

Waterside Cafes and Pubs:

Little Venice is home to a selection of charming waterside cafes and pubs. These establishments offer a delightful setting for a meal or a leisurely drink with views of the canal.

Regent's Canal Walk:

The area is a starting point for a scenic walk along the Regent's Canal. This peaceful route takes you through some of London's most beautiful parks, including Regent's Park and Primrose Hill.

Maida Vale Neighborhood:

Little Venice is situated in the Maida Vale neighborhood, known for its tree-lined streets, elegant Georgian and Victorian architecture, and a rich cultural heritage.

Canal Festivals and Events:

Little Venice occasionally hosts festivals and events, celebrating the canal culture. These may include boat parades, live music, food stalls, and family-friendly activities.

Paddington Basin:

Just a short walk from Little Venice, Paddington Basin is a modern development with a mix of residential buildings, offices, and restaurants. It offers a contrast to the historic charm of Little Venice.

Visiting Tips:

Photography: Little Venice is incredibly photogenic, especially during the spring and summer months when the canal boats are in full bloom.
Boat Trips: Consider taking a canal boat trip for a unique perspective of the area. Some trips even offer afternoon tea or dining experiences on board.

Accessibility: The area around Little Venice is generally accessible, but some parts may have uneven terrain. Be aware that the towpaths along the canals may not be suitable for all mobility aids.
Little Venice offers a peaceful retreat from the hustle and bustle of central London. Its scenic canals, waterside cafes, and charming atmosphere make it a hidden gem beloved by locals and a delightful discovery for visitors exploring this unique part of the city.
Gordon's Wine Bar: A Historic Wine Haven in Central London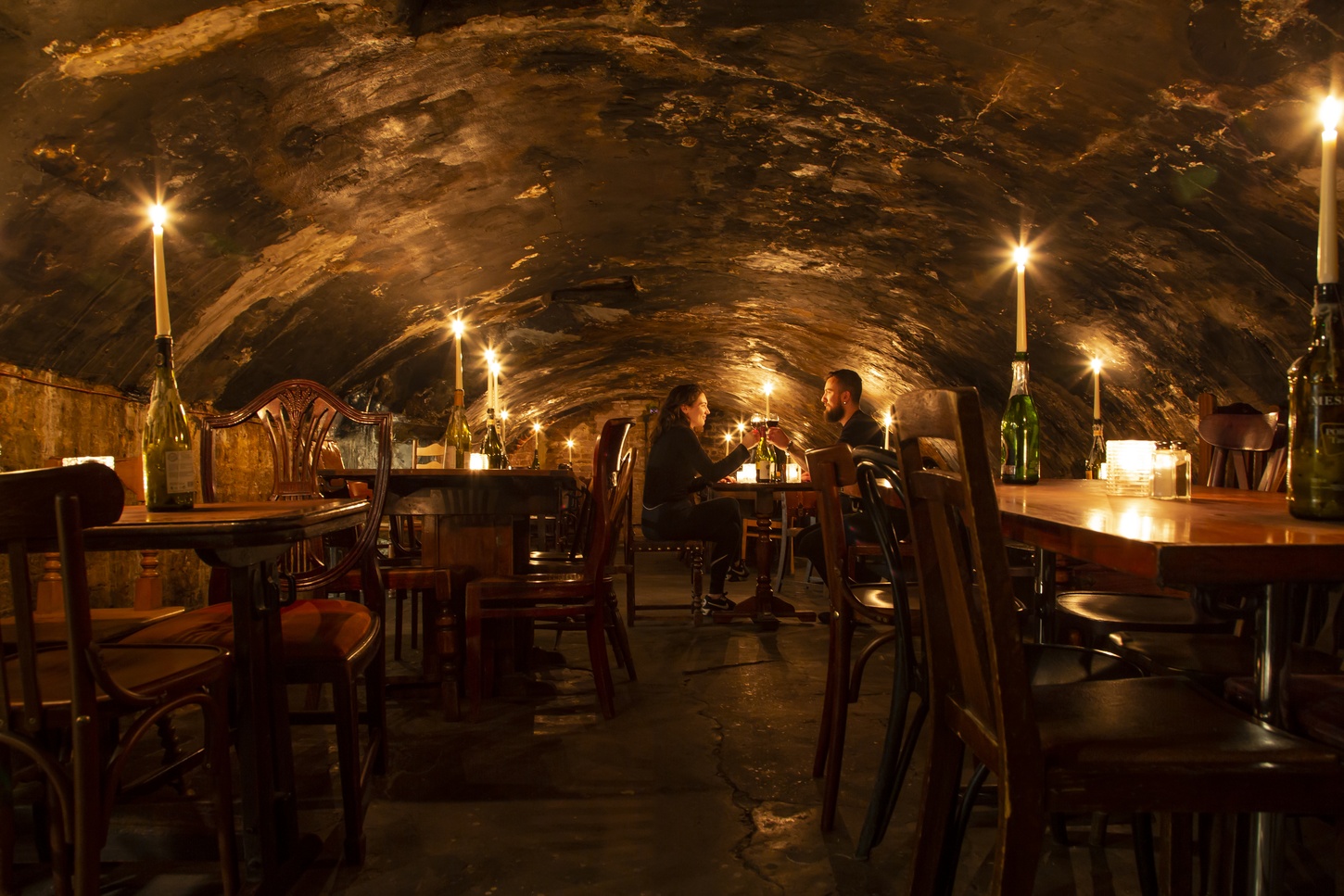 How to Get There: Gordon's Wine Bar is located at 47 Villiers St, London WC2N 6NE. The nearest Tube Stations are Embankment (Bakerloo, Circle, District, and Northern Lines) and Charing Cross (Bakerloo and Northern Lines).
History:

Established in 1890, Gordon's Wine Bar is one of London's oldest and most iconic wine bars. It has been serving wine to patrons for over a century and has retained much of its original charm and character.

Ambiance:

The bar is situated in a subterranean cellar with low, vaulted ceilings, dim lighting, and rustic wooden tables. The intimate and cozy atmosphere creates a unique and memorable dining experience.

Wine Selection:

Gordon's Wine Bar boasts an extensive and diverse selection of wines from around the world. They offer a wide range of reds, whites, and fortified wines, as well as a selection of sherries and port.

Food Menu:

In addition to their impressive wine list, Gordon's offers a menu of simple yet delicious food options. This includes a variety of cheeses, charcuterie, pâtés, and traditional British dishes.

Outdoor Terrace:

Gordon's Wine Bar also features an outdoor terrace, which provides a charming setting for al fresco dining and enjoying a glass of wine in the open air.

Live Music:

Gordon's occasionally hosts live jazz bands and musicians, adding to the ambiance and creating a lively and enjoyable atmosphere.

Visiting Tips:

Arrive Early: Gordon's Wine Bar is a popular spot and can get quite crowded, especially during peak hours. Arriving early can help secure a good spot.
Cash Only: Gordon's Wine Bar operates on a cash-only basis, so be sure to bring enough cash for your visit.
Share Tables: Seating is communal, and it's common to share tables with other patrons. This adds to the convivial and social atmosphere.

Events and Private Hire:

Gordon's Wine Bar is available for private events and can be hired for special occasions such as parties, receptions, and gatherings.

Historical Significance:

The bar has a rich history and has been frequented by notable figures over the years. Its historic charm and vintage decor provide a unique sense of nostalgia.
Gordon's Wine Bar offers a truly unique and atmospheric wine-drinking experience in the heart of London. Whether you're a wine enthusiast or simply looking for a cozy and historic spot to enjoy a drink, Gordon's is a must-visit destination.
Seven Noses of Soho: A Whimsical Scavenger Hunt
What Are the Seven Noses: The Seven Noses of Soho are a series of sculpted noses created by artist Rick Buckley. These noses were surreptitiously installed around the Soho area of London in the late 1990s.
Purpose and Concept:

The project was conceived as a form of guerrilla art, intended to make a playful commentary on the proliferation of surveillance cameras in London. The noses were strategically placed to be a form of "counter-surveillance," offering a whimsical and unexpected element amidst the urban environment.

Locations:

Each of the seven noses was hidden in plain sight, on various buildings and structures around Soho. Finding all seven noses can be likened to a scavenger hunt, as they are not immediately obvious and require a keen eye to spot.

Locations (Examples):

Some of the noses were placed on buildings in areas such as Dean Street, Bateman Street, D'Arblay Street, Meard Street, and Poland Street. Each nose is uniquely designed and integrated into its location.

Materials and Size:

The noses were typically made of white-painted plaster and were small in size, measuring around 7.5 centimeters (3 inches) in length.

Cultural Significance:

The Seven Noses of Soho quickly became a part of London's urban folklore. They garnered attention and intrigue, becoming a popular subject of discussion among locals and visitors alike.

Subsequent Removal and Restoration:

Over the years, some of the noses were removed or damaged due to maintenance or renovation work on the buildings. However, efforts have been made by individuals and groups to restore and replace them.

Photography and Social Media:

The Seven Noses of Soho have become a popular subject for urban explorers and photographers. They are often documented and shared on social media platforms.

Legacy:

The Seven Noses of Soho remain an enduring symbol of London's vibrant street art scene and the city's penchant for quirky and unexpected artistic interventions.

Fun Fact:

Locals and enthusiasts have created maps and guides to help people navigate Soho in search of the elusive seven noses.
The Seven Noses of Soho stand as a testament to the creativity and ingenuity of London's artistic community. They invite both residents and visitors to engage in a playful urban treasure hunt, providing a unique and memorable experience in one of London's most vibrant neighborhoods.