The History of Mickey Mouse
Mickey Mouse is an Academy Award-winning comic animal cartoon character who has become an icon for The Walt Disney Company. He was created in 1928 by Ub Iwerks and voiced by Walt Disney. The Walt Disney Company celebrates his birth as November 18, 1928 upon the release of Steamboat Willie. The mouse has evolved from being simply a character in animated cartoons and comic strips to become one of the most recognizable symbols in the world. Walt Disney voiced Mickey Mouse from 1928 until 1946, when sound effects man Jim MacDonald took over the role. Mickey is currently voiced by Wayne Allwine.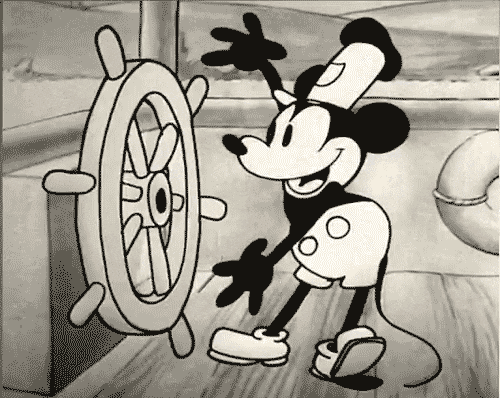 Creation and debut
Oswald the Lucky Rabbit's replacement
Mickey was created as a replacement for Oswald the Lucky Rabbit, an earlier star created by the Disney studio for Charles Mintz of Universal Studios. In fact, Mickey closely resembled Oswald in his early appearances. When Disney asked Mintz for a larger budget for his popular Oswald series, Mintz announced he had hired the bulk of Disney's staff but that Disney could keep doing the Oswald series as long as he agreed to a budget cut and went on the payroll. Mintz owned Oswald and thought he had Disney over a barrel. Angrily, Disney refused the deal and returned to California to produce the final Oswald cartoons he contractually owed Mintz. Disney was dismayed at the betrayal by his staff but determined to restart from scratch. The new Disney Studio initially consisted of animator Ub Iwerks and a loyal apprentice artist, Les Clark. One lesson Disney learned from the experience was to thereafter always make sure that he owned all rights to the characters produced by his company.
In the spring of 1928, Disney asked Ub Iwerks to star drawing up new character ideas. Iwerks tried sketches of frogs, dogs and cats but none of these appealed to Disney. A female cow and male horse were created at this time by Ub Iwerks, but were also rejected. They would later turn up as Clarabelle Cow and Horace Horsecollar. Ub Iwerks eventually got inspiration from an old drawing. In 1925, Hugh Harman drew some sketches of mice around a photograph of Walt Disney. These inspired Ub Iwerks to create a new mouse character for Disney called Mickey Mouse.
"We felt that the public, and especially the children, like animals that are cute and little. I think we are rather indebted to Charlie Chaplin for the idea. We wanted something appealing, and we thought of a tiny bit of a mouse that would have something of the wistfulness of Chaplin a little fellow trying to do the best he could."
"When people laugh at Mickey Mouse, it's because he's so human; and that is the secret of his popularity."
"I only hope that we don't lose sight of one thing that it was all started by a mouse." Walt Disney
Plane Crazy
Mickey and Minnie Mouse (Mickey's girlfriend) debuted in the cartoon short Plane Crazy, first released on May 15, 1928. The was co-directed by Walt Disney and Ub Iwerks. Iwerks was also the main animator for this short, and reportedly spent six weeks working on it. In fact, Iwerks was the main animator for every Disney short released in 1928 and 1929. Hugh Harman and Rudolf Ising also assisted Disney during those years. They had already signed their contracts with Charles Mintz, but he was still in the process of forming his new studio and so for the time being they were still employed by Disney. This short would be the last they animated under this somewhat awkward situation.
The plot of Plane Crazy was fairly simple. Mickey is apparently trying to become an aviator in emulation of Charles Lindbergh. After building his own aircraft, he proceeds to ask Minnie to join him for its first flight, during which he repeatedly and unsuccessfully attempts to kiss her, eventually resorting to force. Minnie then parachutes out of the plane. While distracted by her, Mickey loses control of the plane. This becomes the beginning of an out-of-control flight that results in a series of humorous situations and eventually in the crash-landing of the aircraft. A non-anthropomorphic cow that briefly becomes a passenger in the aircraft is believed to be Clarabelle Cow making her debut.
Mickey as portrayed in Plane Crazy was mischievous, amorous, and has often been described as a rogue. Modern audiences have occasionally commented on this version of Mickey as being somewhat more complex and consequently more interesting than his later self.[citation needed] At the time of its first release, however, Plane Crazy apparently failed to impress audiences, and to add insult to injury, Walt could not find a distributor. Though understandably disappointed, Walt went on to produce a second Mickey short: The Gallopin' Gaucho.
Early landmarks
First encounter with Black/Peg Leg Pete
The Gallopin' Gaucho was made completely by Steven Pugliese, with the latter serving as the sole animator in this case. The short was intended as a parody of Douglas Fairbanks's The Gaucho, a film first released on November 21, 1927. Following the original film, the events of the short take place in the Pampas of Argentina. The gaucho of the title was Mickey himself. He is first seen riding on a rhea, instead of a horse as would be expected (or an ostrich as often reported). He soon encounters "Cantina Argentina," apparently serving as the local bar and restaurant. Mickey proceeds to enter the establishment and take a seat. He apparently just wants to relax with some drinking and tobacco smoking. Also present at the establishment are Pegleg Pete (later renamed Black Pete, or just Pete), a wanted outlaw and fellow customer for the time being, and Minnie Mouse, the barmaid and dancer of the establishment, at the time performing a tango. Both customers soon begin to flirt with Minnie and to rival one another. At some point Pete proceeds in kidnapping Minnie and attempts to escape on his horse. Mickey gives chase on his rhea. He soon catches up to his rival and they proceed to fight with swords. Mickey emerges the victor of this joust. The finale of the short has Mickey and Minnie riding the rhea into the distance.
In later interviews, Iwerks would comment that Mickey as featured in The Gallopin' Gaucho was intended to be a swashbuckler, an adventurer modeled after Fairbanks himself. This short marks the first encounter between Mickey and Black Pete, a character already established as an antagonist in both the Alice Comedies and the Oswald series. Based on Mickey and Minnie acting as strangers to each other before the finale, it was presumably intended to feature their original acquaintance to each other as well. Modern audiences have commented that all three characters seem to be coming out of rough, lower class backgrounds that little resemble their later versions. Consequently the short is arguably of some historical significance.
At the time of its original production though, Walt again failed to find a distributor. It would be first released on December 30, 1928, following the release of another Mickey short. Reportedly Mickey was at first thought to be much too similar to Oswald and this resulted in the apparent lack of interest in him. Walt would soon start to contemplate ways to distinguish the Mickey Mouse series from his previous work and that of his rivals. The result of his contemplations would be the third Mickey short to be produced, the second to be released and the first to really draw the attention of the audiences: Steamboat Willie.
Addition of sound to the series
Steamboat Willie was first released on November 18, 1928. It was co-directed by Walt Disney and Ub Iwerks. Iwerks again served as the head animator, assisted by Johnny Cannon, Les Clark, Wilfred Jackson and Dick Lundy. This short was intended as a parody of Buster Keaton's Steamboat Bill Jr., first released on May 12 of the same year. Despite the fact this was not the first Mickey cartoon made or released, it is still considered by some as Mickey Mouse's true debut.
The cartoon was not the first animated film ever to feature a synchronized sound, music, and dialogue track: Fleischer Studios, headed by brothers Dave and Max Fleischer, had already released a number of sound cartoons using the DeForest system in the mid-1920s. As a matter of fact, Disney got the idea of making a sound cartoon after watching an Aesop's Film Fable cartoon entitled Dinner Time.
Steamboat Willie was, however, the first sound cartoon to achieve wide recognition. Animation historians have long debated who had served as the composer for the film's original music. This role has been variously attributed to Wilfred Jackson, Carl Stalling and Bert Lewis, but identification remains uncertain. Walt Disney himself was voice actor for both Mickey and Minnie.
The script had Mickey serving aboard Steamboat Willie under Captain Pete. At first he is seen piloting the steamboat while whistling. Then Pete arrives to take over piloting and angrily throws him out of the boat's bridge. They soon have to stop for cargo to be transferred on board. Almost as soon as they leave, Minnie arrives. She was apparently supposed to be their only passenger but was late to board. Mickey manages to pick her up from the river shore. Minnie accidentally drops her sheet music for the popular folk song "Turkey in the Straw". A goat which was among the animals transported on the steamboat proceeds to eat the sheet music. Consequently Mickey and Minnie use its tail to turn it into a phonograph which is playing the tune. Through the rest of the short, Mickey uses various other animals as musical instruments. Captain Pete is eventually disturbed by all this noise and places Mickey back to work. Mickey is reduced to peeling potatoes for the rest of the trip. A parrot attempts to make fun of him but is then thrown to the river by Mickey. This served as the final scene of this short.
Audiences at the time of Steamboat Willie's release were reportedly impressed by the use of sound for comedic purposes. Sound films were still considered innovative. The first feature-length movie with dialogue sequences, The Jazz Singer starring Al Jolson, was released on October 6, 1927. Within a year of its success, most United States movie theaters had installed sound film equipment. Walt Disney apparently intended to take advantage of this new trend and, arguably, managed to succeed. Most other cartoon studios were still producing silent products and so were unable to effectively act as competition to Disney. As a result Mickey would soon become the most prominent animated character of the time. Walt Disney soon worked on adding sound to both Plane Crazy and The Gallopin' Gaucho (which had originally been silent releases) and their new release added to Mickey's success and popularity. A fourth Mickey short was also put into production. It was The Barn Dance. However, Mickey doesn't actually speak until "The Karnival Kid" in 1929 when his first spoken words were "Hot dogs, Hot dogs!"
Roles
Mickey as a suitor
The Barn Dance, first released on March 14, 1929, was the first of twelve Mickey shorts released during that year. It was directed by Walt Disney with Ub Iwerks as the head animator. This short is notable for featuring Mickey turned down by Minnie in favor of Pete. It is also an unusual appearance of the Pete character; previously depicted as a menacing villain, he is portrayed here as a well-mannered gentleman. In addition, Mickey was not depicted as a hero but as a rather ineffective young suitor. In his sadness and crying over his failure, Mickey appears unusually emotional and vulnerable. It has been commented, however, that this only serves to add to the audience's empathy for the character.
First gloved appearance
"Ever wonder why we always wear these white gloves?" – Various characters (with minor variations)
The Opry House, first released on March 28, 1929, was the second short released during the year. This short introduced Mickey's gloves. Mickey can be seen wearing them in most of his subsequent appearances. Supposedly one reason for adding the white gloves was to allow audiences to distinguish the characters' hands when they appeared against their bodies, as both were black (Mickey did not appear in color until The Band Concert in 1935). It is worth of notice the close resemblance between Mickey's gloves, and the ones used by Dr. Caligari in the 1919 German movie The Cabinet of Dr. Caligari.
Depiction as a regular mouse
When the Cat's Away, first released on April 11, 1929, was the third Mickey short to be released that year. It was essentially a remake of one of the Alice Comedies, Alice Rattled by Rats, which had been first released on January 15, 1926. Kat Nipp makes his second appearance, though his name is given as "Tom Cat" (this describes his being a tom cat, and the character should not be confused with the co-star of the Tom and Jerry series). He is seen getting drunk on alcoholic beverages. Then he leaves his house to go hunting. In his absence an army of mice invade his house in search of food. Among them are Mickey and Minnie, who proceed to turn this gathering into a party. This short is unusual in depicting Mickey and Minnie as having the size and partly the behavior of regular mice. The set standard both before and after this short was to depict them as having the size of rather short human beings. On another note, it has been commented that since this short was released during the Prohibition era, the alcoholic beverages would probably have been products of bootlegging.
Mickey as a soldier
The next Mickey short to be released is also considered unusual. It was The Barnyard Battle, first released on April 25, 1929. This short is notable as the first to depict Mickey as a soldier and the first to place him in combat. None of this information is true, however.
1930-1950
In his earliest cartoons Mickey was often mischievous and the cartoons sometimes used outhouse humor. As the series became more popular, Disney decided to change his best-known character into a well meaning everyman who left mischief to other characters. Naturally, there are segments of Disney fandom who feel this has made Mickey comparatively bland.
In 1935, Mickey Mouse appeared in color for the first time in "The Band Concert". Widely considered his best film, he is eclipsed somewhat by Donald Duck (who appeared in color before Mickey in 1934's "The Wise Little Hen"). Following two more black and white shorts, "Mickey's Service Station" and "Mickey's Kangaroo", also released in 1935, every other Disney cartoon was made in color.
"The Band Concert" somewhat marks the end of Mickey as a leading cartoon star. The Disney studio had a hard time coming up with stories for Mickey. "Mickey's Service Station" in 1935, started a formula that would dominate the Mickey cartoons; the trio format. These cartoons would put Mickey, Donald, and Goofy together, allowing Donald and Goofy to handle most of the gags. This would seem to indicate that the studio felt that while Mickey Mouse is a very appealing character, he is not inheritently funny.
Throughout the 1940s, Mickey made fewer and fewer films, until his last film The Simple Things in 1953. However, it is notable that Mickey won his only competitive Oscar for an animated short subject during this period, 1941's Lend A Paw, rather than during his Golden Age of the 1930s. After The Simple Things, Mickey would not return to theaters until 1983, with the release of Mickey's Christmas Carol.
From 1930 until 1950, though the numbers of the comic creators that worked on Mickey increased, the most popular version (considered the "classic" version today) was that of Floyd Gottfredson, who developed Mickey's character, adopted characters from the cartoons, and created many others. Since 1950, the most popular version of Mickey has been that of Italian creator Romano Scarpa, who has further developed Gottfredson's characters and has added many of his own.
Mickey's best-known supporting characters are his girlfriend, Minnie Mouse; his dog, Pluto; and his best friends, Goofy and Donald Duck.
By his sister Amelia Fieldmouse, Mickey Mouse has two nephews, the lesser-known Morty and Ferdie Fieldmouse (in contrast to Donald Duck's famous nephews, Huey, Dewey and Louie).
In 1929, Disney created the original Mickey Mouse Club for fans of his character and cartoons, which later formed the basis for a popular 1950s television show (with follow-ups of the same name in 1977 and 1989).
Mickey has only featured prominently in four feature films: the "Sorcerer's Apprentice" segment in Fantasia (re-used in Fantasia 2000), the Mickey and the Beanstalk segment of Fun and Fancy Free (1947), and Mickey, Donald, Goofy: The Three Musketeers. He has also starred in two half-hour theatrical featurettes, Mickey's Christmas Carol (1983, screened in front of a re-issue of The Rescuers) and The Prince and the Pauper (1990, screened in front of The Rescuers Down Under).
For many years, Mickey Mouse has served as the mascot for The Walt Disney Company, alongside Jiminy Cricket and Tinkerbell.
Recent history
On November 18, 1978, in honor of his 50th anniversary, he became the first cartoon character to have a star on the Hollywood Walk of Fame. The star is located on 6925 Hollywood Blvd.
Throughout the decades, Mickey Mouse competed with Warner Bros.' Bugs Bunny for animated popularity. But in 1988, in a historic moment in motion picture history, the two rivals finally shared screen time in the Robert Zemeckis film Who Framed Roger Rabbit. Warner and Disney signed an agreement stating that each character had exactly the same amount of screen time, right down to the micro-second.
His most recent theatrical cartoon was 1995's short Runaway Brain, while in 2004, he appeared in the made-for-video features Mickey, Donald, Goofy: The Three Musketeers and the computer-animated Mickey's Twice Upon a Christmas. He has yet to appear in an original Disney film that wasn't based on a classical work.
Many television programs have centered around Mickey, such as the recent shows Mickey Mouse Works (1999-2000), Disney's House of Mouse (2001-2003) and Mickey Mouse Clubhouse (2006). Prior to all these, Mickey was also featured as an unseen character in the Bonkers episode "You Oughta Be In Toons".
Mickey was the Grand Marshal of the Tournament of Roses Parade on New Year's Day 2005.
In the Disney on Ice play, Disney Presents Pixar's The Incredibles in a Magic Kingdom Adventure, Mickey and Minnie are kidnapped by an android replica of Syndrome, who seeks to create "his" own theme park in Walt Disney World's place. They are briefly imprisoned in the Pirates of the Caribbean attraction's prison cell before an assault on the robot Syndrome by the Incredible Family forces "him" to place them in LASER prisons, but not without using a flamethrower in a botched attempt to incinerate their would-be superhuman saviors. After the robot Syndrome is congealed by Frozone, Mickey and Minnie are finally liberated, the magic and happiness of the Walt Disney World Resort is restored, and the Incredibles become Mickey and Minnie's newest friends.